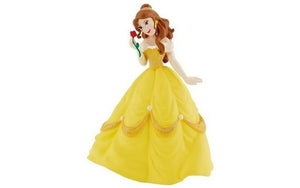 Belle, which means "beauty", is as lovely as her name implies. She is beautiful inside and out. She is intelligent, passionate, bookish, and yearns for faraway places and exciting adventures. 

She is also a loyal, loving daughter. When the beast finally wins her trust, she gives him all of her kindness and patience before realizing that she has also given him her heart. With her inner strength and outer beauty, Belle is a young woman who can change lives and that is exactly what she does. 

Bullyland figurines are made from TVC which has several advantages over PVC figurines. TVC is softer, non-toxic and it is made from a recyclable material unlike PVC.