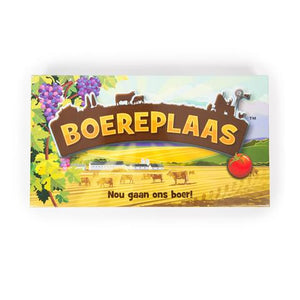 BOEREPLAAS® is groot pret. Nou vir die eerste keer in jare, is daar weer 'n eg-Suid-Afrikaanse bordspeletjie op die mark. Net in Afrikaans. Net in Suid-Afrika. Met die heel beste en mooiste prente en kwaliteit bybehore.
Kry die hele gesin saam, bel jou maats, kom speel Boereplaas. Nou gaan ons Boer!
Kom speel 'n lekker moderne weergawe van Boereplaas! Beurtkrag laat jou kuikens vrek, jy moet allerhande belastings betaal en die werkers staak vir hoër lone. Aan die positiewe kant voer jy vrugtesap uit na Doebai, begin 'n staproete op jou plaas en begin 'n aanleg vir gebottelde water.
BOEREPLAAS® is pret, maar ook opvoedkundig. Dit leer kinders (en grootmense) van boerdery, ondernemingsgees, taalvaardighede, rekenkunde en sosiale interaksie. Ook hoe om met geld te werk. Jy moet oordeelkundig op jou plaas boer, anders speel jy dalk bankrot of kan jy nie 'n trekker of huis vir jou plaas bekostig nie. Leer om somme te maak as jy aankope en verkope doen en van die goeie en slegte tydings met boerdery.