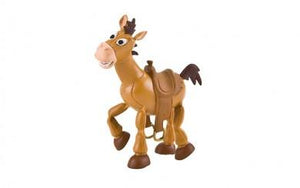 TOY STORY 3 - BULLSEYE (9.5CM)
Bullseye is Woody's faithful horse toy from the "Woody's Roundup Gang". Bullyseye can run like the wind and jump over huge canyons with a single leap, especially when Woody is sitting in the saddle.

Bullyland figurines are made from TVC which has several advantages over PVC figurines. TVC is softer, non-toxic and it is made from a recyclable material unlike PVC.