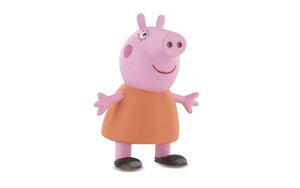 PEPPA PIG - MUMMY PIG (6.5CM)
Peppa Pig is a very successful British children's animated TV series. It has been broadcast in Spain since 2010. The star of the series is Peppa, a little pig who lives with her little brother George and her parents: Mummy Pig and Daddy Pig.
The main setting is their home, where the stories of most of the episodes take place. In some of them we see the family leaving the house, driving in their car, at a friend's house or in another place.